Specification of gabion meshes; mesh size 100 x 100 mm
| | |
| --- | --- |
| Number | Mesh dimensions in mm |
| 1 | 500 x 500 |
| 2 | 500 x 1000 |
| 3 | 1000 x 1000 |
| 4 | 500 x 1500 |
| 5 | 1000 x 1500 |
| 6 | 500 x 2000 |
| 7 | 1000 x 2000 |
| 8 | 500 x 2500 |
| 9 | 1000 x 2500 |
| 10 | 500 x 3000 |
| 11 | 1000 x 3000 |
Specification of gabion meshes; mesh size 50 x 100 mm
| | |
| --- | --- |
| Number | Mesh dimensions in mm |
| 1 | 500 x 500 |
| 2 | 500 x 1000 |
| 3 | 1000 x 1000 |
| 4 | 500 x 1500 |
| 5 | 1000 x 1500 |
| 6 | 500 x 2000 |
| 7 | 1000 x 2000 |
| 8 | 500 x 2500 |
| 9 | 1000 x 2500 |
| 10 | 500 x 3000 |
| 11 | 1000 x 3000 |
How to order mesh for gabions and mattresses, or ready-to-use gabions.
MARKINGS

Capital letters

Small letters

Gabions – Basic marking:KG (gabion basket)

Gabion mattress – Basic marking:KG (gabion mattress)

Meshes:

SG …gabion mesh

SM …mattress mesh

Spirals:

SP ...Spiral L=

wire diameter between a & f

Distances:

DS ...Distance L =

wire diameter between a & f

Coating method – first letter

Wire diameter – third letter

A - ZnAl5 coating

a -

B - Zinc coating (Zn)

b - O - 3,0

C - stainless steel

c -

D - PVC coating

d - O -4,0

E - polyethylene coating

e -

F - polypropylene

f - O - 5,0a

P - modified synthetic material

X - mix of synthetic materials

Mesh size

a - 100 x 100 mm

Fixing method – second letter

b - 50 x 100 mm

S - spiral-joined

c - 150 x 100 mm

Z - plug-joined

d - 200 x 100 mm

K - joined with a "C" ferrule

x – non-typical dimension
Example:

KGASea 200 x 100 x 100

KG – gabion basket; length 200 cm, width 100 cm, height 100 cm
A – made of wire coated with alloy ZnAl5 (Bezinal, Crapal4, or Galvan)
d – wire diameter O - 4,0 mm
a – mesh size 100x 100 mm

MGBSba 600x200x30

M – gabion mattress; length 600 cm, width 200 cm, height 30 cm
B – made of galvanized wire
b – wire diameter O - 3,0 mm
a – mesh size 100x 100 mm
Jarosz Converters Company, against special orders, is able to deliver other gabion meshes, up to a maximum width of 2500 mm.

Apart from gabions, Jarosz Converters Company delivers also gabion mattresses.Gabion mattresses differ from gabion baskets with their destination.Gabion mattresses are used to reinforce river and sea bottoms, scarps with slight inclinations, as well as to reinforce banks over gabions, or to reinforce artificial water reservoirs with small depths, such as retention reservoirs.Reinforcement of such an artificial bank obviously takes place from the reservoir internal side, whereas reinforcement of an internal side of a retention tank should definitely be done with the use of gabion baskets; it must be remembered, however, that both the gabion cross-section and wire diameter have been calculated with suitable mathematical formulas.


(When designing reinforcement of this type , Jarosz Converters company is always willing to help its clients).
A mattress , to be able to perform its duties, cannot be thicker than 30 cm; this being due to the fact that mattresses are filled with stones at sizes between 100 and 150 mm, which enables natural passage of plants between stones (so-called rockery plants), which, in a stone-plant mix make an excellent and reliable protective layer.
Products manufactured by Jarosz Converters possess Technical Approval No. AT/2009-03-1571, issued by Road and Bridge Research Institute
Exemplary uses of our gabions
Reinforcement of river, brook and creek beds will help diminish damages done by floods that have occurred so often in the world in recent years.The applied anti-flood reinforcement technique prevents underwashing and landsliding along river banks.We would like to point out at the exceptional resistance, durability and strength of anti-flood gabions, which have been achieved thanks the new wire type (see description of BEZINAL®-coated wire).
Gabions and mattresses on the Regalica River
Gabions and mattresses on the Prosna and Krępica Rivers in Kalisz
Gabions are also used in the construction of walls protecting housing estates against noises form the street and pollution.In place of old, traditional, unaesthetic concrete walls, which corrode very quickly, unlike gabion structures, gabion walls of stones are presently used (GABIONEN-SYSTEM).These solutions are not only ingenious, but also economical – they do not require cement, lime and sand, and retain its original form for a much longer period of time. Meshes alone can be used to protect rocks from sliding down, like below: photos show the protection of Maczuga (the Club) in Szklarska Poręba, with meshes manufactured by Jarosz Converters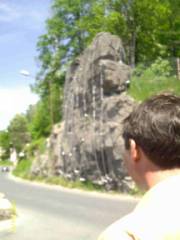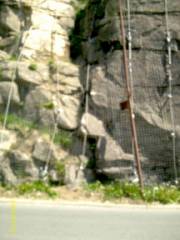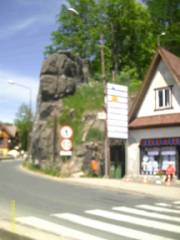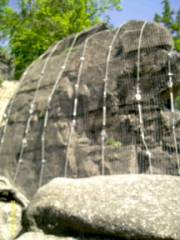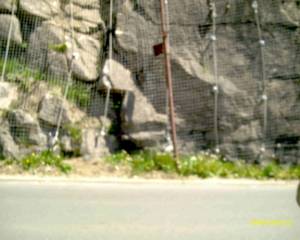 Gabions can filled with various materials, arrange into interesting, irregular patterns and planted out, which increases their aesthetic value, and the greenery adds to their appearance, making the whole structure look more natural.Nature will assimilate to stones very quickly – after all, they are also its elements.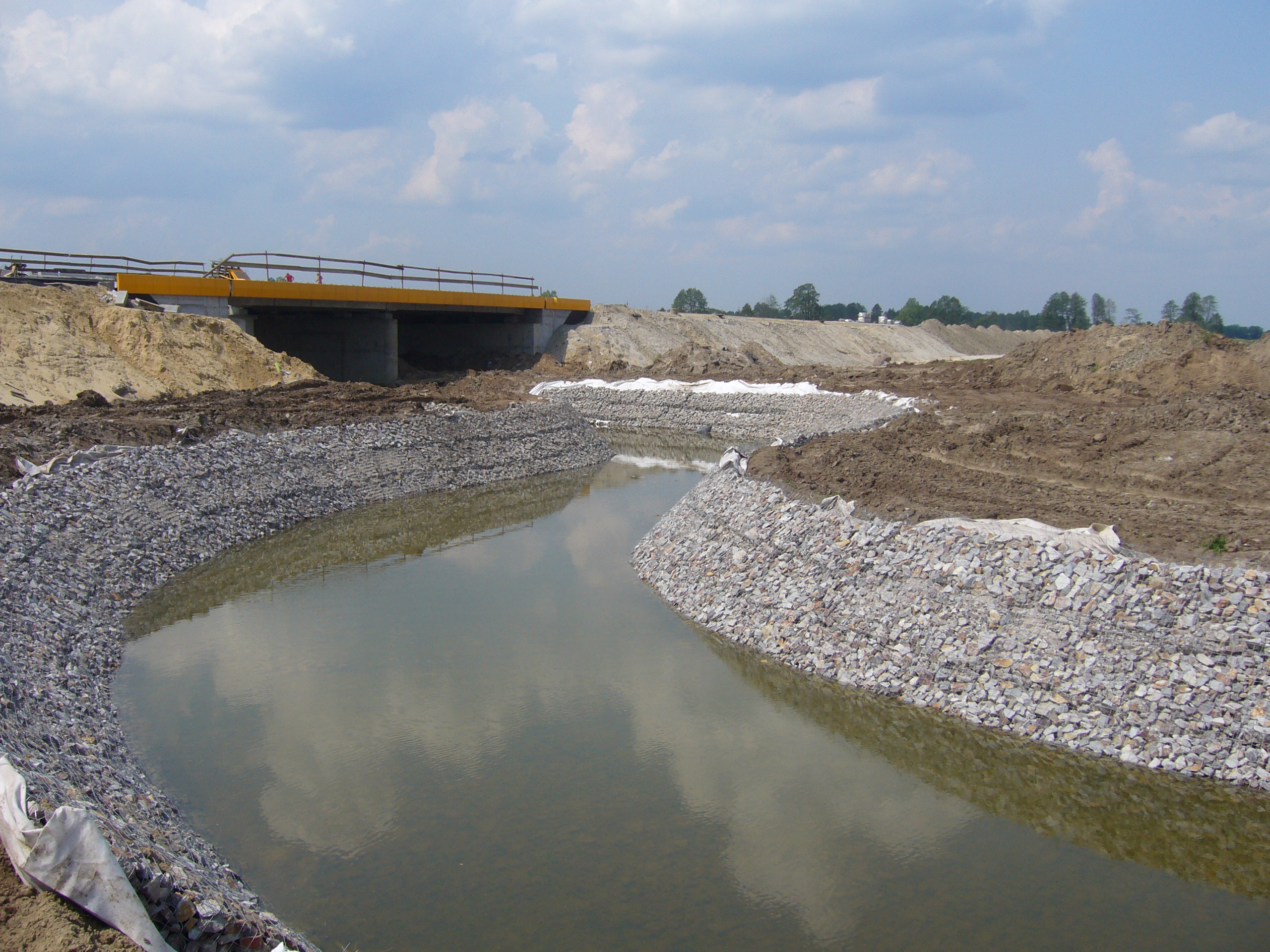 During the construction of Garwolina ring road, after the new river bed was filled with water
.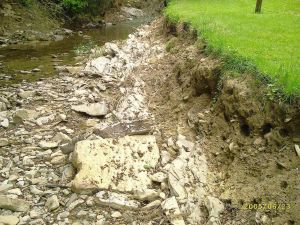 Appearance of the bank in Stężnica after a flood...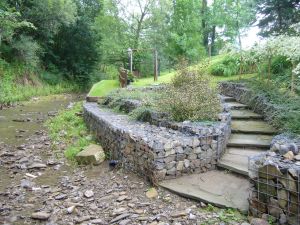 ... reconstructed bank in Stężnica (Bieszczady Mountains) after the flood (photo above)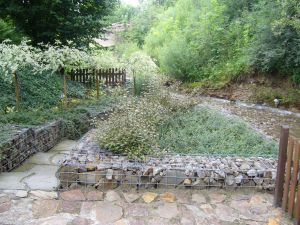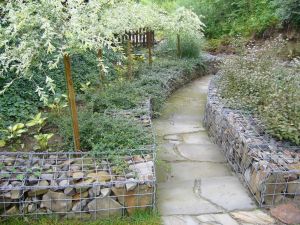 After reconstruction, the empty place could be used as flowerbed.
Gabions are also used in the construction of house fences, gardens and parks.Already in antiquity, people would build embankments made of stones, which protected settlements against winds and predators.Regular stone slabs, when suitably arranged, planted out or simply covered with grass can have surprising effect.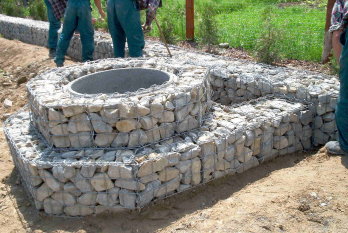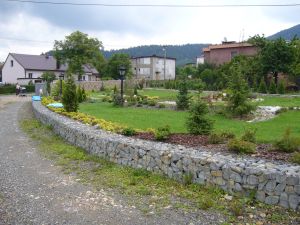 Gabions as walls – low, ornamental fences
We will be happy to be of advice and assistance to our clients; we are able to design and even carry out comprehensive projects on the client premises.
Should you be interested in these innovative environmental protection systems, do not hesitate to contact us.
TELEPHONES:
(48) (71)(718-25-10
48(71)(718-25-20
FAX: (48) (33) 870-5874
E-mail: jarosz@jarosz.com.pl


New methods for anti-corrosion covers on gabion meshes.Special meshes for the construction of river embankments and banks reinforcements (erosion preventing stone gabions (e.g. slide of the ground) on banks, slopes, inclines or sea-coasts).
Special meshes are made by the welding method of the wire protected aginast the corrosion with the zinc and alluminum alloy.This wire has the commercial denomination of "BEZINAL2000®" or "CRAPAL".
This technology has to be used in those cases, where the active sewers occur (salinity, sulfation or other active chemical substances). Additionally, the gabion meshes made of wires covered with ZnAl5 alloy have to be covered with plastics resistant to such caustics.PCV may be the covering material as well asPE PP , the modified fabric or the mixture of plastics.
Chemical composition of modified materials as well as plastics is the technological trade secret of Jarosz Converters company.